---
You enter a world of magic where everything can happen.
My new web page.
The most addictive and interesting interactive online game is waiting for you:

This is a Multi User Game (MUD) based on the Belgariad written by David and Leigh Eddings.
Prophecy is a living MUD. Our team is working from all around the world on it (Luxembourg, Sweden, Thailand, USA, Hawaii, Australia, Netherlands, France and some others).
Want to do something creative, like writing a Novel together with all the other surfers.
At a special request for our Luxembourgish and German friends a German Novel has been created. Or should I say: Ein Deutscher Roman.
A French version is also available. Il y a aussi un Roman pour nos amis francais!
For those how would like to use a computer the RIGHT way visit the Linux User Group Luxembourg.
The "Letzebuerger" Mailing List now has it's own WEB page.
The music page of the Harmonie Moutfort-Medingen
In June 1997: small trip to Canada and the U.S. Here is a small resume of our Canada-Trip.
Did you know I like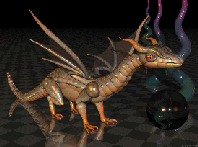 ---
This Site is powered by Apache on a Linux PC.